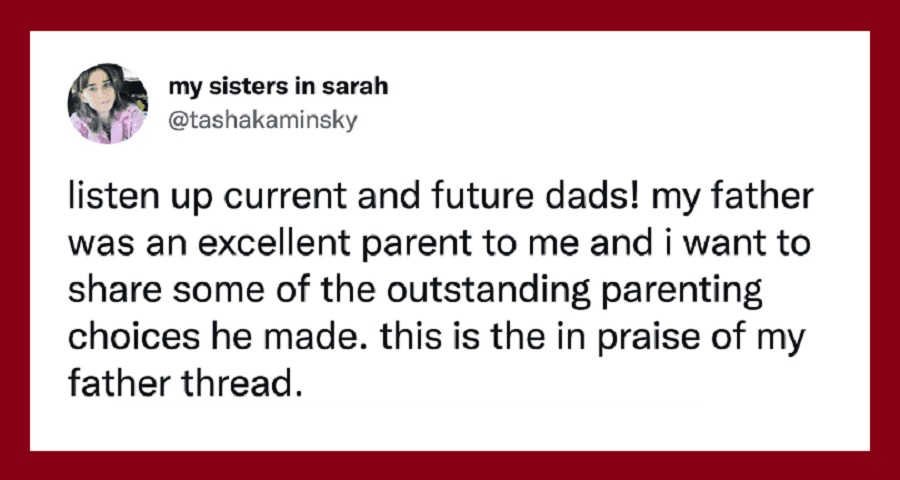 Parenting is one of the greatest challenges in life. Every parent wants the best for their children, but it takes a lot of hard work and dedication to shape and guide your young ones to adulthood.
However, although we're all aware that mothers are often the predominant child-rearing parent, one Twitter user decided to praise her dad's parenting skills in a series of tweets.
Twitter user @tashakaminsky addressed current and future dads to listen her story. She shared that her father was an excellent parent to her and she wanted to show the world some of the parenting choices he made. According to her, he was her role model in many ways, and you can check out her Twitter series below.
listen up current and future dads! my father was an excellent parent to me and i want to share some of the outstanding parenting choices he made. this is the in praise of my father thread.

— my sisters in sarah (@tashakaminsky) April 6, 2022
my father never policed my sexuality. he did not tell me what i could and could not wear. not once did he tell me to wash my make up off. he did not comment on my appearance in a negative way once.

— my sisters in sarah (@tashakaminsky) April 6, 2022
my dad did not tell me when i could date. he did not find jokes about threatening violence against my potential suitors funny. he did not like it when people said he'd have to lock me up.

— my sisters in sarah (@tashakaminsky) April 6, 2022
my father acknowledged how dangerous it was to be a woman. he even would help me identify when a man was sexualizing me at a time when i was too young to understand what was happening. (men started sexualizing me when i was about 9.)

— my sisters in sarah (@tashakaminsky) April 6, 2022
my dad was an unapologetic feminist and ally to the lgbtqia community. he modeled inclusion and respect for me and it made me realize i would be accepted and cherished by him no matter my gender or orientation.

— my sisters in sarah (@tashakaminsky) April 6, 2022
my father made it his business to travel with me when he was working. truly he taught me his trade. he encouraged my academic pursuits but never pressured me to perform well. he always advocated for me when it was discovered i had a learning disability.

— my sisters in sarah (@tashakaminsky) April 6, 2022
this should go without saying but my father never ever hit me and never threatened to hit me.

— my sisters in sarah (@tashakaminsky) April 6, 2022
my dad valued what i valued and participated in what i participated in. he coached my basketball team. he listened to the music i listened to. he watched the movies and tv i watched. any book i wanted? he got me. he bought me mariah carey's rainbow because he noticed i loved her.

— my sisters in sarah (@tashakaminsky) April 6, 2022
my father trusted me. he did not make onerous rules for me to follow. he respected my privacy. when he accidentally saw something private of mine he did not punish me because it was not something I would ever have told him otherwise (and it was not dangerous).

— my sisters in sarah (@tashakaminsky) April 6, 2022
my dad gave me grace when i failed. he did not judge my academic performance. he was always willing to help me with homework if i asked but never insisted. he gave me expectations of being kind and focused on me being successful meaning that i was happy.

— my sisters in sarah (@tashakaminsky) April 6, 2022
my father was aware and attentive to my mental health. he could tell when i was anxious or depressed and always made space for me to seek help, or remove me from a triggering space.

— my sisters in sarah (@tashakaminsky) April 6, 2022
my dad did not like when i was objectified. there were numerous opportunities in my youth to model or be on children's shows and he said no. one of the few times i saw him get angry was when a grown man interrupted our dinner to model scout me. i was 14.

— my sisters in sarah (@tashakaminsky) April 6, 2022
my father never ever put me in a position to be taken advantage of for his or my mother's gain. he deeply cared about my privacy and safety and it showed in the ways it counted. he absolutely despised that people sexualized me as a child. but he never made that my problem.

— my sisters in sarah (@tashakaminsky) April 6, 2022
my dad never spoke an ill word of my mother to me. he very clearly loved and admired my mother. he did not hide his adoration of my mother regardless of who was around. it was always obvious to me that my father valued and trusted my mother.

— my sisters in sarah (@tashakaminsky) April 6, 2022
my father did not buy into toxic masculinity. he was willing to wear bright colors. he loved cats. he did not drink at all ever. again, he watched the shows i watched which were things like buffy, veronica mars, and the oc. he loved sports and was a professional soccer player.

— my sisters in sarah (@tashakaminsky) April 6, 2022
my father cried in front of me. he was not ashamed to emote around me and he showed me many emotions and modeled appropriate ways of conveying anger.

— my sisters in sarah (@tashakaminsky) April 6, 2022
my only daddy issue is that my father died when i was 21. that wasn't his fault. he did so much that was ahead of his time when it came to parenting a daughter. i am grateful for everything he did for me and his memory is an enormous blessing to me.

— my sisters in sarah (@tashakaminsky) April 6, 2022
Source: Upworthy